Peterson Sign Company is the leading provider of custom signs and banners in Honolulu. With over five decades of experience, we have established ourselves as the best choice for businesses and organizations seeking high-quality, impactful signage.
At Peterson Sign Company, we understand the significance of accurately representing your company's image. Our team of talented sales representatives brings a wealth of experience and expertise to the table, collaborating closely with clients to develop winning solutions that truly capture their brand identity. From small storefront signs to large-scale branding projects, we have the skills and creativity to bring your vision to life.
Our experienced team is committed to delivering a seamless sign project experience. We provide comprehensive consultation services, guiding you through every stage of the process, including usage, design, permitting, and installation. With our in-depth knowledge and diligence, we ensure that your project is executed smoothly, efficiently, and to your utmost satisfaction.
Equipped with cutting-edge technology and a vast supply of the finest 3M film for signs, we possess the capability to handle projects of any size or quantity. Whether you require multiple signs to brand your company or event, we can easily accommodate large-scale projects, delivering consistent quality and attention to detail. Peterson Sign Company specializes in tackling the most ambitious branding initiatives.
As a licensed contractor with a team of qualified technician installers, we prioritize safety and regulatory compliance. We excel in installing large, oversized signs securely and in accordance with state, federal, and county regulations. Additionally, our expertise extends to producing road/highway and parking lot signage, making us the ideal choice for projects involving these areas. We understand the importance of minimizing downtime, particularly for high-profile events like the Hyundai Tournament of Champions or the Sony Open, and we excel in efficiently installing numerous signs or banners to minimize disruption.
We invite you to explore our impressive portfolio, highlighting the diverse range of projects we have successfully completed throughout the beautiful state of Hawaii. Peterson Sign Company has consistently delivered exceptional results, garnering the trust and loyalty of our clients.
When it comes to custom signs and banners, Peterson Sign Company stands above the rest. Contact us today and let us help you make a powerful statement that resonates with your audience and leaves a lasting impression.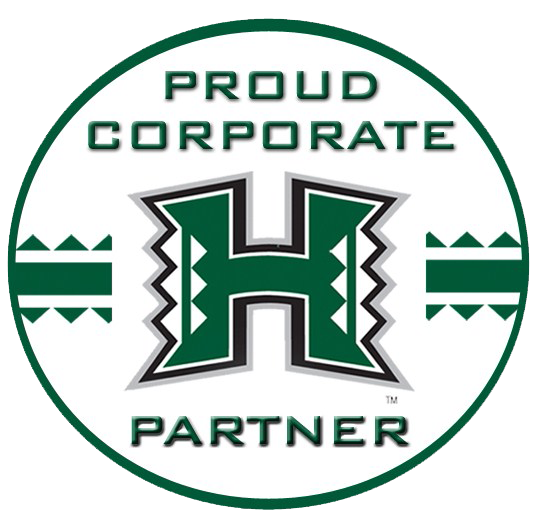 Peterson Sign Company also supports University of Hawaii student athletes.