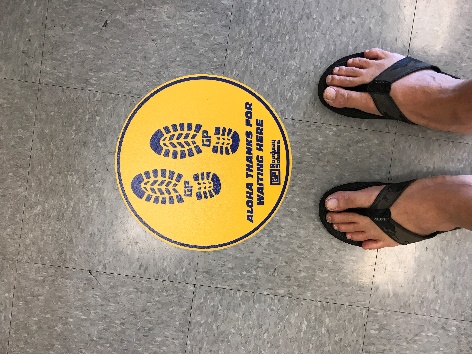 Need help to enforce your social distancing measures and check-out line management with custom signs designed for the COVID-19 guidelines? These floor signs, floor tapes and clearly identifiable shapes will show customers where it is acceptable to stand in line and keep appropriate distance at all time. Each of these social distancing tools are made from vinyl material designed to stand up to heavy foot traffic that a busy retail, restaurant or business environment will dish out.
The CoronaVirus has made the necessity to utilize new COVID-19 regulations about keeping your employees and customers safe during this time of caution. If your business must remain open for customers, reduce the risk by providing clear indication where customers should be waiting to maintain appropriate distances at all times. Social distancing will be easier to put into practice when you show employees and visitor exactly what it should look like.
We have the following signs available for you.
A frame signs
Floor graphics
Floor striping
Banners
Social distancing reminder wall signs
Rolls of flooring tape
Aisle direction markers
Wall signs
Pick-up area parking signs
Glass clings
---
---