Extend Your Brand with Your Interior Décor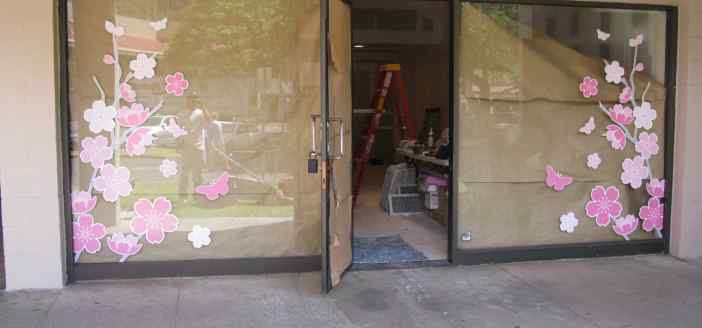 By Brad Tom
Logos, mission statements and company slogans are only a few of the elements that work into a cohesive brand strategy; all of these should be considered in the design of your workplace. Extending your brand into the interior commercial space helps your clients, customers and tenants understand a little about whom you are and what makes your company or association unique. By having collaborative work spaces that reflect your brand's personality throughout your building, you can foster memorable experiences with your employees, visitors and customers.
1. Branding with colors
Try to include branding colors or designs that are incorporated in your name and logos into the interior design somehow. Keeping it simple with touches of color around the office can help enforce the company brand. Especially, uniquely colored everyday items bring about nice touches that remind visitors of the brand of the company. To make sure you don't go overboard on this, you can create a feature wall showing the company colors and accent decorative items around the room. We did a Bebe store that used the black color of their logo to blend in with the black ceiling and accent items on their counters. To bring warmth to the store they combined it with wood grained showcase and white walls.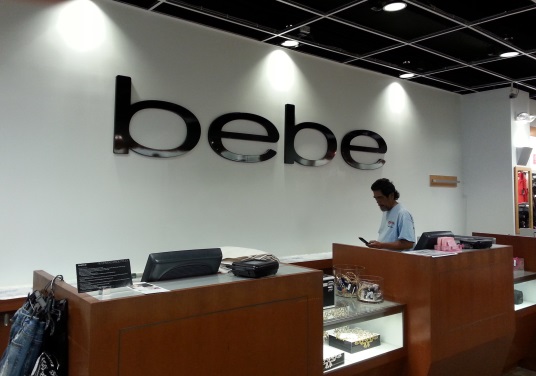 2. Signs
Having a large noticeable sign on your exterior for branding is obviously a given, but continuing that theme into the office continues to further that message. Including your logo, colors and fonts onto wayfinding signs or office name plates are ways tokeep the theme consistent. Citi Financial reproduced their large logo inside of the bank along with poster frames with their logos.This way they can change the messages on a fly but still keep consistent branding on their walls.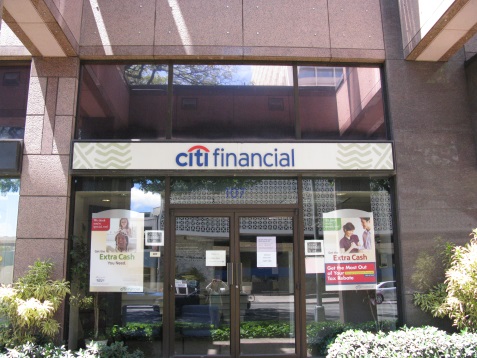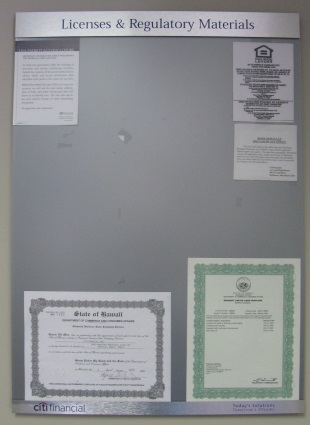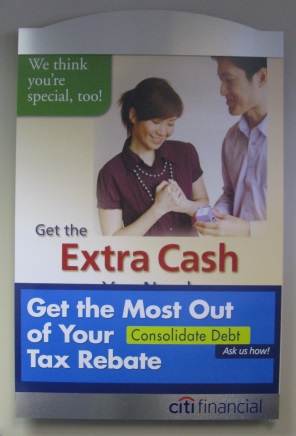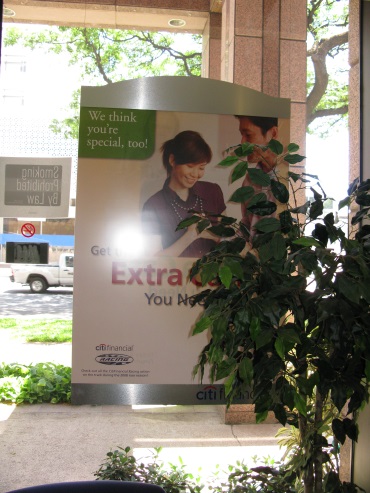 3. Wall & window graphics
Graphics help convey emotion through storytelling. The colors, images and, shapes help to give a glimpse into the personality of the store or company. We helped Caramia LLC who had a cute cherry blossom design spread it across their retail windows and name plate to draw customers from around the corner into their store. By having the design on the windows, you could view it as you came around a corner allowing the customer to experience the sensation of a story unfolding before them. Pairing it with a cherry blossom room number sign completed the exterior branding allowed by the tenant association.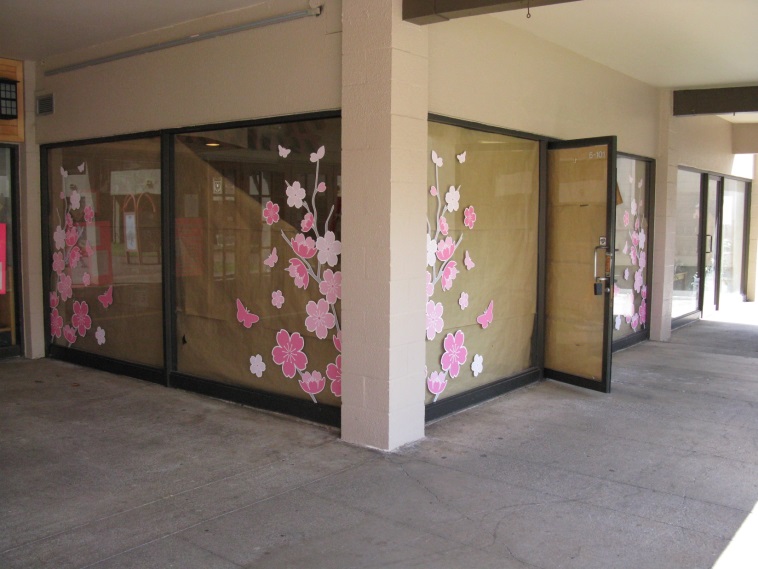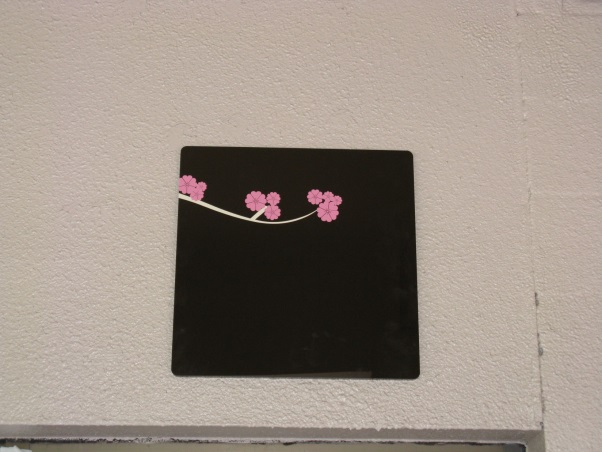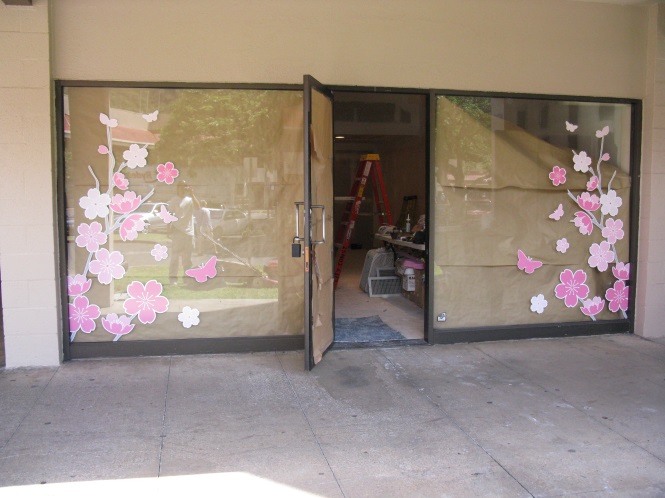 4. Brand storyboard
Motivational quotes, phrases across a glass wall along with images portraying your brand will help employees visualize the company's unique DNA. The brand storyboard also shows visitors what your company is all about. We were honored to apply wall graphics to the locker rooms for the University of Hawaii volleyball teams, both men's & women's. Having the University's logos and poster images applied to the walls and floor brings the flash that is out on the playing arena into the locker room. Hopefully, this keeps the energy that the athlete feels when playing in front of the crowd, into this more personal space. This can be done in a corporate setting as well by creating a corner with wall graphics, company colors, motivational messages and images that resonate with the company story. Having a collaborative workspace with bright motivational messages that fosters an exchange of ideas would help team members achieve their goals easier.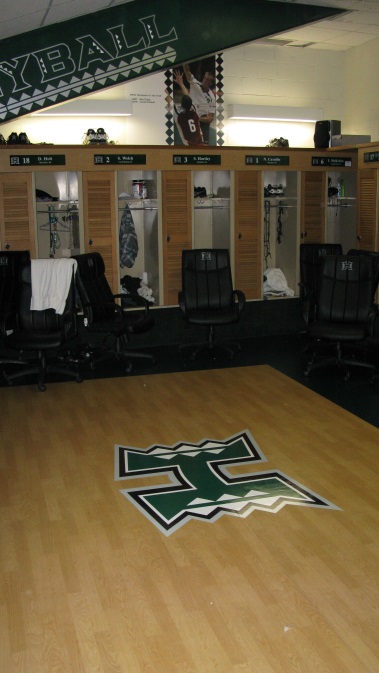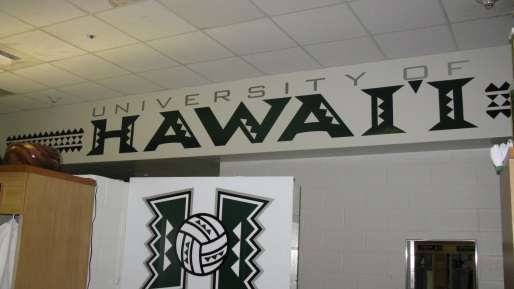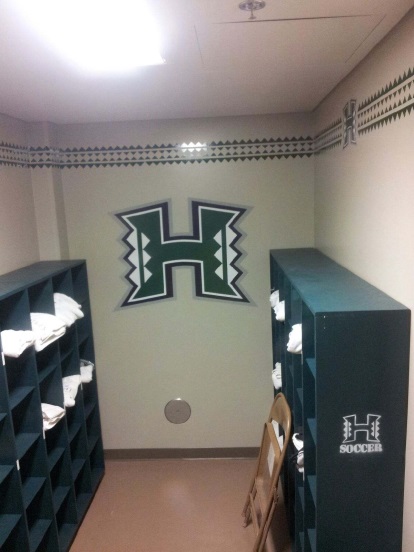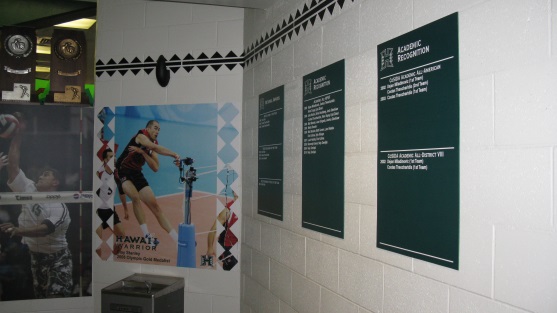 5. Wayfinding Signs
Wayfinding signs are an excellent way to keep your brand in front of customers & tenants while providing a valuable service. Knowing how your customers are trying to find you or giving them the just the right information at the right time is key in effective wayfinding signs. We helped the Star Advertiser with location signs in parking lots and along the way to their offices by branding the directories. Fitting into the scheme of the location is important if you are providing exterior signs where you may not have control of the theme.
If we can help provide guidance or services with these and other signs, please call us to arrange an appointment.